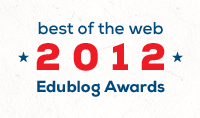 This is the first time I have ever actively submitted nominations to the Edublog Award.   With the new 2012 EDUBLOG AWARD Nominations now open, I wanted to give a big thank you and give back to the people who I have read and been inspired by most this year.  So here goes:
Most Influential Post:  Tyson Seburn: Academic Reading Circles
This is by far and hands down my most visited post of the year and has guided me through my teaching of academic reading and gave me the courage and a way to break out of a limited model that was not working in my classroom.
Best ed tech / resource sharing blog:Joe Pereira IF only: Interactive Fiction and teaching English as a foreign language (TEFL/TESOL)
Through Joe Pereira opening my eyes about interactive fiction and the effects on my students, I started experimenting with IF.  This blog is packed full of lesson plans based around the electronic game genre of Interactive fiction.
Best Teacher Blog: Adam Simpson: Year in the life of an English teacher
Adam Simpson follows through the highs and lows of teaching as well as giving all round excellent resources and posts on the reality of teaching.
Best Educational Use of Social Media: Teaching English British Council's facebook page
I have watched this page grow from the beginning.  It is versitile, responsive to its followers and extensive, covering and supporting teachers and teaching in all aspects of ELT.
Best Individual Blog: Jeremy Harmer's Blog
Although from one of the big names in ELT, this blog encourages open discussion and Jeremy's human approach and honesty draw me back again and again.